Workshop Billedbehandling 17 Marts kl. 17.30-22.45 i Hellerup (nær København) 
Vil du lære hvordan man laver super lækre og realistiske hudtoner på modelfotos?
Vi kommer til at dække bl.a. følgende (og meget, meget mere):
Farvekorrektion i Raw

Rækkefølge på justeringer/retouch

Tilretning af former

Farvekorrektion med levels & kurver 

Andre muligheder for farvejustering

Dodge & Burn på den smarte måde

Brug af blending modes til forskellige ting

Filtre til at lave hud (jep, jeg bruger indimellem kommercielle plug-in's)

Den manuelle måde at retouchere hud på
Sort/Hvid konvertering med maksimal kontrol
Skarphed og Noise på billeder
Automatisering
Hvordan man bygger korrektioner op så man kan gå tilbage og ændre/justere senere.
Eller sagt på en anden måde, du kommer til at lære omtrent alt hvad du har behov for for at farvekorrigere billeder, retouchere dem, lige give lyslægningen et ekstra (realistisk) pift, fjerne rynker så det ser ægte ud, skabe fokus på det vigtige i et billede, og lave super lækre hudtoner. Thomas redigerer billeder på næsten samme måde hver gang og resultaterne (du kan se nogle eksempler herunder) taler vist for sig selv. Her har du muligheden for at prøve at blive ført igennem en af de mest optimale måder at retouchere modelbilleder på.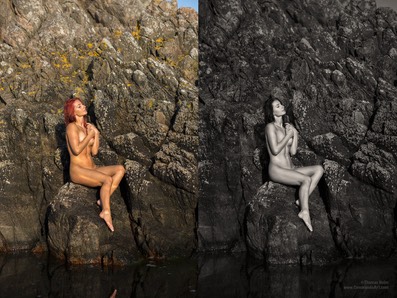 Du skal medbringe en bærbar computer og mus/tegnebrædt, resten disker vi op med. Du skal have Adobe® Photoshop® installeret og du skal have en nogenlunde forståelse  hvordan lag/layers fungerer for at få udbytte at kurset. Vi vil anbefale at du køber eller henter en 14 dages demo af Imagenomic Portraiture før workshoppen.
Undervejs vil vi printe nogle af billederne ud i højeste kvalitet, både så du selv kan se hvordan dine billeder ser ud trykt, men også for at diskutere forskellige resultater, pointen er jo at du bliver så dygtig som overhovedet muligt.
Vi forudbestiller noget mad og spiser undervejs.
Se før og efter eksempel herover