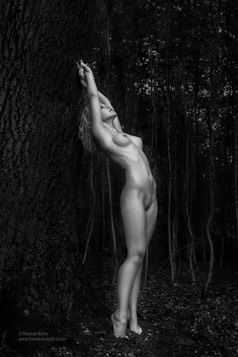 Text translated from Danish
What's your name or would you prefer to be anonymous?
- My name is Ida
How many times have you been photographed nude?


- Currently I

'

ve had 6-7 nude sessions

What made you decide to pose nude first time you did?


- First time I posed for nude images was more or less a coincidence if you can express it like that. I wanted to 

challenge

 myself and my shyness, I had never modeled before and thought it was something of a challenge as I didn

'

t feed confident about my 

appearance - and wanted to change this. So I asked around for photographers interested in working with me, and Thomas Holm asked if I was interested in nude-art images. After seeing some of his images I thought it was the perfect way to both challenge myself and evolve.

 

Why do you model for nude pictures and show your body to the world?
- It's not really something i do to "show my body to the world". The part about others seeing me is really the part I'm least happy about by posing nude, even though it may seem silly that I then go ahead and do it anyway. I mostly do it for myself, because I think it's interesting and it helps boost my self image and confidence. An added benefit is it also help others to see that no matter what height and size you are, you can still create beautiful images. 
Describe what it feels like to be nude while being photographed, does it feel unnatural for example?


- It

'

s not something I find unnatural if there is a good 

chemistry

 and interaction between me and the photographer - then nudity is very natural and a vessel to create beauty. If the 

chemistry

 isn

't there it can be awkward and I get a feeling of vunerability in that I don't have any clothes on.
How did you feel after your first session and/or when you saw the pictures?


- I felt incredibly happy and 

positive

 after the first shoot. I had this feeling of 

self-confidence and being on top of the world. When I saw the images I was also very proud - proud that something I had never done before, ended up with becoming beautiful images. That is something that inclines me to keep improving.
What is it like working with Thomas?


- Thomas is fantastic to work with. As a 

first-timer

 I felt completely safe with him - he guides and helps as needed. He creates a good mood with lots of fun but also dead seriousness and can get models to relax. He

'

s also very good at taking care of his models in relation to 

transportation, food, drinks etc.
You feel welcome, safe and in a good mood when working with Thomas.


What is/was the biggest worry about modeling nude, if any?


- I

'm still a bit shy and are generally not that thrilled with the idea that other people are seeing images of me nude. There are some people I would not like saw my images, since this is private and something I do for myself.
There is also a small concern that the images might at some point be abused one way or another.
Original tekst på Dansk:
Hvad hedder du eller vil du hellere være anonym?
-  Jeg hedder Ida
Hvor mange gange er du blevet fotograferet uden tøj?
 - I skrivende stund er det min. 6 gange jeg har fået taget billeder uden tøj. 
Hvad fik dig til at stå model nøgen første gang?
 - Første gang jeg fik taget nøgenbilleder var faktisk mere eller mindre ved et "tilfælde", hvis man kan udtrykke det sådan. Jeg ville udfordre mig selv og min generthed, jeg havde aldrig stået model før og tænkte det var noget af en udfordring da jeg ikke havde det helt godt med mit udseende - det ville jeg gerne ændre på. 
Så jeg efterspurgte en fotograf som var interesseret i at arbejde med mig og Thomas Holm tilbød sig og spurgte om jeg var interesseret i nudeart, så efter at have set nogle af hans billeder synes jeg det var en perfekt måde at udfordre og udvikle mig selv på.  
Hvorfor laver du nøgenbilleder, og viser din krop for verden?
- Det er egentlig ikke rigtig noget jeg gør for at "vise min krop for verden". Det, at andre skal se mig er faktisk det jeg er mindst glad for ved at få taget billeder uden tøj, selvom det nok virker åndssvagt at jeg så gør det.  Jeg gør det mest for min egen skyld, fordi jeg synes det er spændende og giver et selvtillids-boost. 
Det er jo selvfølgelig også positivt at vise andre, at uanset højde og størrelse kan man godt lave flotte billeder.
Prøv at beskrive hvordan det føles at blive fotograferet nøgen, er det unaturligt for eksempel?
 - Det er ikke noget jeg finder unaturligt, hvis der er den rette kontakt/kemi mellem mig og fotografen – så er nøgenheden noget ganske naturligt, og noget der kan skabes noget smukt med. 
Hvis kemien ikke er der, synes jeg det kan være akavet og pinligt og jeg får en følelse af sårbarhed i og med jeg ingen tøj har på.
Hvordan følte du efter dit første shoot og/eller da du så billederne?
- Jeg følte mig utrolig glad og positiv efter første shoot. Jeg fik en følelse af selvtillid og af at være på toppen. Da jeg så billederne blev jeg også stolt – stolt over, at noget jeg aldrig har prøvet før, endte ud i så fine billeder. Dét er noget der giver lyst til at blive ved og forbedre sig. 
Hvordan er det at arbejde med Thomas helt generelt?
- Thomas er fantastisk at arbejde sammen med. Som førstegangsmodel følte jeg mig helt tryg ved ham – han guider og hjælper efter behov. 
Han skaber en god stemning med både sjov of seriøsitet og får modellen til at slappe af. Thomas sørger også for sine modeller, både i form af transport og forplejning. 
Man føler sig altid velkommen, sikker og i godt humør når man arbejder med Thomas. 
Hvad er den største bekymring (hvis der er nogen) ved at lave billeder uden tøj?
- Jeg er stadig en smule genert, og er generelt ikke så vild med tanken om, at andre mennesker skal se billeder af mig uden tøj. Der er nogle personer jeg overhovedet ikke ønsker skal se mine billeder, da det for mig er noget privat jeg gør for min egen skyld. 
At billederne skal blive misbrugt på den ene eller anden måde er også en lille bekymring for mig.