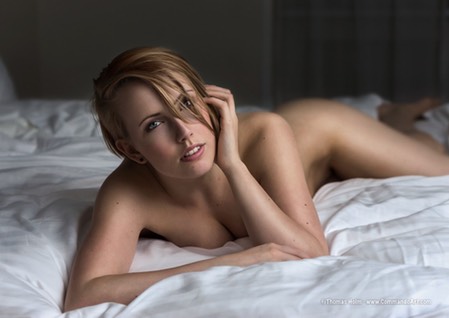 Original text transpated from Danish
What's your name or would you prefer to be anonymous?
-Agnethe B.
How many times have you been photographed nude?
-4 times
What made you decide to pose nude first time you did?
- It was to challenge myself and push my own limits
Why do you model for nude pictures and show your body to the world?
- I rarely do it, but it's a super nice style which I want to try and work with.
Describe what it feels like to be nude while being photographed, does it feel unnatural for example?
-I wouldn'

t have believed this initially, but it feels completely natural, as long as it

'

s the right photographer and there is a nice feel/mood.

How did you feel after your first session and/or when you saw the pictures? 
-First time after the shoot my initial though was "

what on earth did I just do

"

. but when I saw 

the images I was completely satisfied.
What is it like working with Thomas?
- It'

s been a pleasure working with thomas, he

'

s very good at creating a safe environment and good mood.

What is/was the biggest worry about modeling nude, if any?


- I do the pictures anonymously because I want to choose which photographers I want to work with myself. My biggest 

concern

 is that my name will be known and I

'

ll end up with a lot of inappropriate/unserious solicitation.
Original tekst på Dansk:
Hvad hedder du eller vil du hellere være anonym?
- Agnethe B.
Hvor mange gange er du blevet fotograferet uden tøj?
- 4 gange
Hvad fik dig til at stå model nøgen første gang?
- Det var for at udfordre mine grænser.
Hvorfor laver du nøgenbilleder, og viser din krop for verden?
- Jeg gør det sjældent, men jeg synes det er en super flot stilart, som jeg har lyst til at prøve kræfter med.
Prøv at beskrive hvordan det føles at blive fotograferet nøgen, er det unaturligt for eksempel?
- Jeg havde ikke troet det, men det føltes helt naturligt, når bare det er den rigtige fotograf og der er en god stemning.
Hvordan følte du efter dit første shoot og/eller da du så billederne?
- Første gang var min tanke efter shootet, hvad er det dog jeg lige har lavet? Men da jeg så billederne, var jeg super tilfreds.
Hvordan er det at arbejde med Thomas helt generelt?
- Det har været en fornøjelse at arbejde sammen med Thomas, han er super god til at skabe en tryk stemning.
Hvad er den største bekymring (hvis der er nogen) ved at lave billeder uden tøj?
- Jeg laver billederne anonymt, fordi jeg selv vil vælge hvilke fotografer jeg vil arbejde med. Derfor er min frygt at mit navn bliver opdaget og jeg derved får mange useriøse henvendelser.