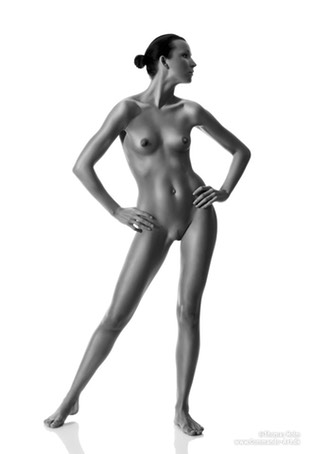 Text translated from Danish
What's your name or would you prefer to be anonymous?
- My name is Janni (Jannis Verden)
How many times have you been photographed nude?


- I don

'

t know how many times I

 

modeled for art-nudes. But I

'

m certainly not finished with it. I

'

ve been working as an art-nude model for a year.

What made you decide to pose nude first time you did?
- I was always a very free spirth and love my body as it is. At one point I had a personal crisis in my life and it was important for me to find something (new) to do. So I started to have pictures taken just for the fun of it, and got bitten by it, and wanted more. So now I'm really into art-nudes and love it. All in all it was a good decision I made back then.
Why do you model for nude pictures and show your body to the world?


- I show my body because I

'

m not ashamed of it. We are all individuals, created differently and should be grateful for what we are. I also do it to show that we are not all alike and a womans body are simply amazingly beautiful regardles of age and 

appearance.
Describe what it feels like to be nude while being photographed, does it feel unnatural for example?


- To me it felt very natural to be photographed in the nude. I was raised very liberally with an open mind to nakedness.

How did you feel after your first session and/or when you saw the pictures?


- I

'

d say my first shoot went very much as expected so fine. But I

'

ve always been very confident around my own body. I know what I have and what I need to work on and in addition my 

self-confidence is pretty good. So I felt good both before and after and the results was satisfying. As it was my first time one can always point out a lot of flaws but all in all very good.
What is it like working with Thomas?


- I can very much recommend Thomas as a Photographer. Whether you have an idea or not Thomas always maintains a sober tone, amd instruct you thoroughly in how to connect the dots, and will guide and talk you through the project. He takes very good care of his models, and by this I mean catering, snacks, pick-up place, instruction in where to prepare, what will happen and when the shoot will be. He

'

s polite and understands you. Thomas is super skilled and 

professional to work with.
What is/was the biggest worry about modeling nude, if any?


- Hmmm, that must be someone abusing the pictures despite the agreement, other than that I can

'

t really think of anything. It

'

s not something I really think about...
Original tekst på Dansk:
Hvad hedder du eller vil du hellere være anonym?
- Mit navn er Janni (janni´s verden)
Hvor mange gange er du blevet fotograferet uden tøj?
 - Jeg har ikke tal på hvor mange gange jeg har stået nudeart-model. Men det er bestemt ikke slut. Har været nudeart-model i et år,

Hvad fik dig til at stå model nøgen første gang?
 - Jeg har altid har været en meget fri person, og elsker min krop som den er, og så havde jeg en personlig krise i mit liv hvor det var super vigtigt for mig at finde på noget at lave. Så startede jeg simpelthen for sjov med at få taget billeder, og så bed det mig bare, og jeg fik lyst til mere. Så nu går jeg utrolig meget op i nude-art og elsker det. Så alt i alt har det været en god beslutning den gang.


Hvorfor laver du nøgenbilleder, og viser din krop for verden?


- Jeg viser min krop frem fordi jeg ikke "skammer" mig. Vi er som individer er skabt forskelligt og det burde man tage til takke med. For at vise at ikke alle er ens og at en kvindes krop simpelthen bare er fantastisk smuk uanset alder og udseende.
Prøv at beskrive hvordan det føles at blive fotograferet nøgen, er det unaturligt for eksempel?
 - For mig føltes det meget naturligt at blive fotograferet nøgen da jeg er opvokset meget frit. 

Hvordan følte du efter dit første shoot og/eller da du så billederne?


-  Jeg vil sige at mit første shoot gik som forventet og det jeg havde sat mig for, så det var helt fint for mig. Men nu har jeg så også været rimelig selvsikker på min krop og ved hvad jeg kan og hvad jeg skal arbejde med, og derudover er min selvtillid også ekstremt høj. Så helt fint både før og efter, og resultatet blev flot. Eftersom det var første gang kan man jo altid finde en masse fejl, men ganske udemærket syntes jeg selv.

Hvordan er det at arbejde med Thomas helt generelt?


- Jeg kan bestemt anbefale Thomas Holm som fotograf, om du har en ide eller ej så formår Thomas altid at holde en god tone og sætte dig godt og grundigt ind i hvordan tingene hænger sammen, og guider og taler gennem forløbet. Han sørger for sine modeller, og dermed mener jeg forplejning, evt opsamlings-sted, instruere dig hvor du kan gøre dig klar, og hvordan det vil foregå og hvornår det foregår (shoot), han er høflig og forstår dig. Thomas er super dygtig og professionel at arbejde sammen med.

Hvad er den største bekymring (hvis der er nogen) ved at lave billeder uden tøj?


-  Hmmm, det må være om billederne bliver misbrugt på trods af kontrakt, ellers ikke rigtig noget syntes jeg. Det er ikke noget jeg tænker over...