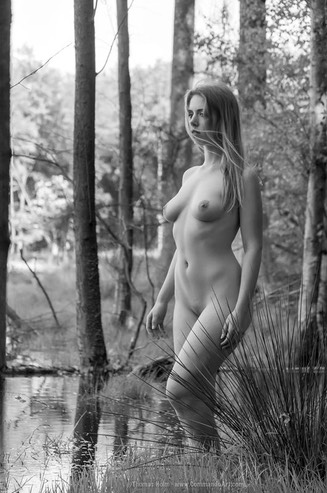 What's your name or would you prefer to be anonymous?
- Heidi Hauge Jensen
How many times have you been photographed nude?
- 3 times
What made you decide to pose nude first time you did?
- I had had the urge to try something new and at that particular shoot it just sort of happened.
Why do you model for nude pictures and show your body to the world?
- I feel that the human body as a '

construction

'

 is beautiful and I deeply appreciate the variety of anatomy. I appreciate to contribute to this theme with whatever I can.

Describe what it feels like to be nude while being photographed, does it feel unnatural for example?
- It comes very natural for me. Obviously I'm also insecure regarding certain parts of my body, however I see no reason not to explore it through artistic nude photography! I feel enormoously liberated and simultaneously in control when I'

m naked in front of a camera!

How did you feel after your first session and/or when you saw the pictures? 
- I was very positively surprised, and felt great and completely confortable wth the situation. If not I wouldn't have done it.
What is it like working with Thomas?
- It was very cosy and relaxed, sort of like taking a walk with someone you know really well! At the same time I learned quite a bit about lighting and setup, and being attentive of the best angles to be photographed in.
What is/was the biggest worry about modeling nude, if any?
- I always carefully consider if there are any people who decidedly CAN'T see my images, but every time I come to the conslusion that people can select not to click the "

adult content

"

 icon if they don

'

t want to. My parents see the pictures EVERY SINGLE TIME. I

'

m never 

embarrassed and neither are they!
Other thoughts you'd like to share?
- Carefully consider who you select to create your pictures with! If it's your first time, find a photographer who knows what 'he' is doing and who can get the best out of you. The you won't be disappointed and loose the will to try again!
Original tekst på Dansk:
Hvad hedder du eller vil du hellere være anonym?
- Heidi Hauge Jensen
Hvor mange gange er du blevet fotograferet uden tøj?
- 3 gange
Hvad fik dig til at stå model nøgen første gang?
- Jeg havde i forvejen lyst til at prøve noget nyt, og lige til det shoot skete det bare
Hvorfor laver du nøgenbilleder, og viser din krop for verden?
- Det gør jeg fordi jeg synes menneskekroppen som "konstruktion" er smuk, og holder meget af mangfoldigheden i anatomien. Jeg vil gerne bidrage til det tema med det jeg har at byde på!
Prøv at beskrive hvordan det føles at blive fotograferet nøgen, er det unaturligt for eksempel?
- Det kommer meget naturligt for mig, naturligvis er jeg også usikker på enkelte dele af min krop, men jeg ser ikke noget i vejen i at udforske den, via nude art. Jeg føler mig enormt frigjort og samtidig i kontrol når jeg står nøgen foran et kamera!
Hvordan følte du efter dit første shoot og/eller da du så billederne?
- Jeg var meget positivt overrasket og følte mig godt tilpas og helt tryk ved situationen. Ellers havde jeg ikke gjort det.
Hvordan er det at arbejde med Thomas helt generelt?
- Det er faktisk enormt hyggeligt, lidt ligesom at gå en tur med en man kender rigtig godt! Samtidig lærte jeg også utrolig meget om lys og opsætning, og at være opmærksom på mine vinkler!
Hvad er den største bekymring (hvis der er nogen) ved at lave billeder uden tøj?
- Jeg overvejer altid om der er nogle mennesker der decideret ikke MÅ se mine billeder, men kommer altid frem til at folk jo bare kan lade være med at klikke på "adult content" knappen hvis de ikke vil! Mine forældre ser mine bileder HVER GANG! Jeg flover mig ikke, og der gør de heller ikke!
Andre tanker du vil dele?
- Overvej meget hvem du vil tage dine billeder med! Hvis det er første gang, så gå efter en fotograf der får det bedste frem i dig, og som ved hvad "han" laver! Så bliver man ikke skuffet, og mister lysten til at prøve igen!