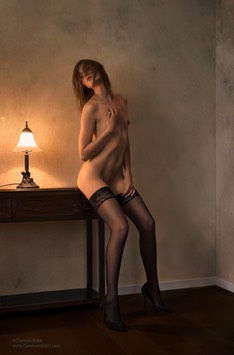 There are many preconceptions regarding women posing for nude images. Some models would like to do it, but are afraid of their surroundings (what will people think). Some do it for self-affirmation, empowerment, and just to see that they are (as) beautiful as other beautiful women. Some are shy and timid and use it as a way to get rid of this and some, of course, are professionel models.
On the flip side some have boyfriends who equate nudity with sex, and thus are very reluctant about their girlfriend/wives wanting to pose nude. Many family members equate nude photography on par with devil worshipping or doing porn, which is a pity as it essentially limits some people from realizing their potential, and trying something they really would like to do.

What most people fail to grasp is women (some women) LOVE to be photographed nude, have the boost in confidence they get from being the center of attention, while creating beautiful images and beeing seen as beautiful, sensual (not sexual) beings. In short many women feel a deep satisfaction in being able to be free and express themselves and being appreciated (but not judged) while creating beautiful images depicting the most elegant machine ever built, namely the human anatomy.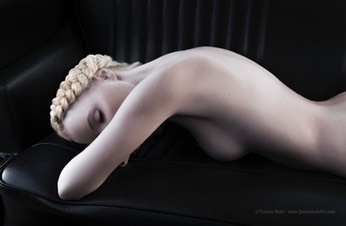 Many of the models I have photographed have no quibbles about posing nude for a photographer they have never met, but would not lie topless on a beach. Many women are/were shy, or afraid to harm others feelings with nudity. Society (and many religions) generally doesn't accept nudity but scorn it as 'evil'.
A beautiful woman can't often roam topless on a beach without getting unwanted (sexually charged) attention from men, and often negative (jealous) attention from women feeling threatened (likely because their boyfriends act like jerks). Or they  risk being scorned by misguided parents scared of their children of whatever age, horrors, may see a female nipple (imagine the consequences - and yes I'm sarcastic)...

In a photographic setting the social dynamics are entirely different. It's more about respect and finding the most elegant way to depict the natural beauty almost every woman has. It's a non sexual, non threatening, very liberating and empowering situation for a woman as you will understand if you read the answers from the models below.
This is a work in progress which will hopefully expand over time.
And here's a Link to Ella Rose Muse blog largely around the same subject
Feel free to ask questions or comment below.