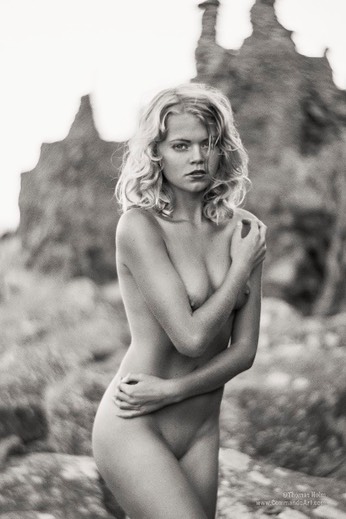 Original text in English
What's your name or would you prefer to be anonymous?
- My name is Shelma Sigrid Kullenberg.
How many times have you been photographed nude?
- I have been photographed nude 5 times; one of them lasted two days. 
What made you decide to pose nude first time you did?
- It was a friend of mine who work as a photographer. He had an idea about doing some shoots with weird and awkward poses that kind of had a humoring twist and it should be naked. He know that I' am very free in my body and asked me. I said yes because I have always been aiming for the power of my own life and body without being controlled of other peoples view.
Why do you model for nude pictures and show your body to the world?
- I want to inspire others to be free in their body, to be comfortable in what they live in, your one skin.  AND TAKE CARE of it; it's your most holy temple you got. I find nudeness natural and beautiful; it really don't have to be connected to any sexual intention- and if so it should not turn in to something DIRTY or SHAMEFULL, it should be RESPECTED and APPERCIATED. The body that we have is AMAZING, all of the lines, muscles, tendons, bones that you can use to move, dance, bend and twist and express yourself.  This is my art, me myself is an art-piece. 
Describe what it feels like to be nude while being photographed, does it feel unnatural for example?
- It does not feel awkward at all! I focus on the commutation with the photographer and work with what I have, the environment and the body to bring out the feeling or the message that we want to give out.
How did you feel after your first session and/or when you saw the pictures?
- I felt so alive and happy!  When I saw the pictures I was so amazed of what I and the photographer had created together. I felt like I had found new way of create art.  
What is it like working with Thomas?
- I love working with Thomas. He is a great artist with inspiring visions and thoughts. You can clearly notice that he loves his work. He also cares about the models he shoot, I felt like we were a team and I was very comfortable with him. He let me do my thing, but also gave me directions. He is great to cooperate with and I have a great time shooting with him! 
What is/was the biggest worry about modeling nude, if any?


- 

That is a hard question… But I would get very mad if someone used the pictures, to deliver a message that I don't stand for, like for example; women should cover themselves for the sake of men's sexual desire. 
Oversat fra Engelsk:
Hvad hedder du eller vil du hellere være anonym?
-  Jeg hedder Shelma Sigrid Kullenberg
Hvor mange gange er du blevet fotograferet uden tøj?
 - Jeg er blevet fotograferet nøgen 5 gange, en af gangene varede 2 dage.
Hvad fik dig til at stå model nøgen første gang?
 - Det var en af mine venner der arbejder som fotograf. Han havde en ide om at lave nogle billeder med mærkelige og akavede poseringer der havde et humoristisk twist og det skulle være nøgent. Han ved jeg er meget frigjort med min krop og spurgte mig. Jeg sagde ja fordi jeg altid har sigtet efter at finde kraften i mit liv og min krop uden at lade mig kontrollere af andres meninger.
Hvorfor laver du nøgenbilleder, og viser din krop for verden?
- Jeg vil gerne inspirere andre til at være fri i deres krop, til at være veltilpas der hvor de bor i, din egen hud. OG PAS PÅ DEN; det er det mest hellige tempel du har. Jeg syntes nøgenhed er naturligt og smukt; det behøver ikke være forbundet med nogen seksuel intention - og hvis det sker skal det RESPEKTERES og PÅSKØNNES. Den krop vi har er fantastisk, alle linierne, muskler, sener og knogler som kan bruges til at danse, bøje, vride og udtrykke dig selv. Det er min kunstform, jeg selv er et stykke kunst.
Prøv at beskrive hvordan det føles at blive fotograferet nøgen, er det unaturligt for eksempel?
 - Det er overhovedet ikke unaturligt! Jeg fokuserer på kommunikationen med fotografen og arbejder med hvad jeg har, omgivelserne og kroppen for at tilvejebringe det budskab vi vil kommunikere ud.
Hvordan følte du efter dit første shoot og/eller da du så billederne?
- Jeg følte mig så levende og glad! Da jeg så billederne var jeg overvældet af hvad fotografen og jeg havde skabt sammen. Jeg følte jeg havde fundet en ny måde at skabe kunst på.
Hvordan er det at arbejde med Thomas helt generelt?
- Jeg elsker at arbejde med Thomas. Han er en storslået kunstner med inspirerende visioner og tanker. Det er tydeligt at han elsker sit arbejde. Han holder også af de modeller han fotograferer, jeg følte vi var et team og var meget afslappet. Han lod mig gøre det jeg gør, men gav også en masse instruktion. Han er fantastisk at samarbejde med og det var super sjovt at lave billeder sammen.
Hvad er den største bekymring (hvis der er nogen) ved at lave billeder uden tøj?
- Det er et svært spørgsmål… Men jeg ville blive meget vred hvis nogen brugte billederne til at levere et budskab jeg ikke kan stå inde for, som for eksempel; kvinder skal tildække dem selv på grund af mænd's seksuelle tiltrækning.