A: It depends on the kind of agreement we make:
I always work with a model contract. 
Always!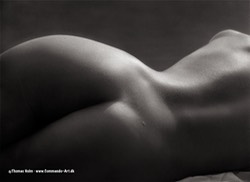 This states I will always retain all usage rights for the images which is necessary for me to sell prints (selling is commercial) and making exhibitions and marketing materials around this. Therefore I use a standard 'all rights' contract which essentially means I have full rights over the images and can do with them what I want. If I can sell the images - good for me if not - too bad for me. Other than the initial agreement (TFP and/or modeling fee) you will not recieve any reimbursement later. If you want to pose specific limitations in how the images can be used we can usually work something out, but I need to know very early in the process if this is the case. There is a lot of time and preparation going on in coordination a session, time involved while shooting and a LOT of time selecting and retouching images afterwards. I need to know before committing to a session in order not to waste a lot of time. I'm sure you will appreciate this if you consider it carefully.