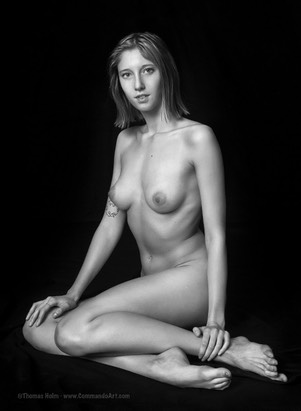 Text translated from Danish
What's your name or would you prefer to be anonymous?
- My name is Anna Sidse Deluran
How many times have you been photographed nude?


- It

'

s the first time (October 25 

'

14)

What made you decide to pose nude first time you did?


- I stumbled over Thomas work and was intrigued. I

'

ve been playing with the idea of modeling for a long time, but nothing has intrigued me like Artistic nudes.

Why do you model for nude pictures and show your body to the world?


- Because you have to be at ease with yourself and not be afraid to set yourself on display. It

'

s also a personal, mental and physical 

challenge for me as a person  and I love that aspect of it! Apart from that at my first shot I met a really nice team which just confirms that Art-nudes also are really fun to do.
Describe what it feels like to be nude while being photographed, does it feel unnatural for example?


- You

'

d think it would be 

awkward, unnatural and pushing your boundaries, but it's not really. You just drop into the part and often you don't even think about the fact that you are naked. I think it's because Thomas and his assistant (Thomas Axel) is extremely skilled and professional around nudity, and you can just be free and enjoy it. (Thomas' note: Anna was part of a shoot with 5 other models - normally assistants wouldn't be present at a first-time shoot).
How did you feel after your first session and/or when you saw the pictures?


- I didn

'

t really have any expectations of the pictures since I don

'

t have any experience with art-nudes. but it was a fantastic experience to have to relate to yourself - nude - in images. But after having seen the series (again) I

'

m satisfied and proud that it

'

s me on those pictures!

What is it like working with Thomas?
- It was absolutely fantastic and very educational working with him. As a new-bee you are welcomed with open arms, and you are never afraid to ask for advice. With Thomas behind the camera there is room for having fun, being serious, experimentation and you have the oportunity to create unique images.
What is/was the biggest worry about modeling nude, if any?


- Being 

'

branded

'

 because of many peoples prejudice around nudity in pictures. But I believe the way forward is showing everyone that you can create something beautiful, nude, without it having to be pornographic in any way, and this is what this is all about.
Original tekst på Dansk:
Hvad hedder du eller vil du hellere være anonym?
- Mit navn er Anna Sidse Deleuran
Hvor mange gange er du blevet fotograferet uden tøj?
 - Det er første gang (den 25/10), at jeg blev fotograferet uden tøj på. Jeg har en smule modelerfaring, men kun portrætter. 
Hvad fik dig til at stå model nøgen første gang?
 - Jeg faldt tilfældigvis over Thomas' arbejde og blev super fascineret.
Jeg har længe leget med idéen om at prøve kræfter med modelarbejde længe, men intet har tiltalt mig som nude-art.
Hvorfor laver du nøgenbilleder, og viser din krop for verden?
- Fordi man skal hvile i sig selv og ikke være bange for at vise sig frem. Det er også en personlig, mental og fysisk udfordring for mig som person, og det er jeg vild med! Der udover mødte jeg til min første shoot et rigtig dygtigt og sødt team, hvilke blot bekræfter: at nude-art også er skide sjovt!
Prøv at beskrive hvordan det føles at blive fotograferet nøgen, er det unaturligt for eksempel?
- Man skulle tro, at det ville være akavet, unaturligt og grænseoverskridende, men det er det ikke. Man falder bare ind i rollen, og til tiden tænker man ikke engang over, at man er nøgen. Jeg tror, at det bunder i Thomas og hans assisent Thomas Axel er så hammerende dygtige og professionelle omkring nøgenheden, at man bare kan slå sig løs og nyde det. (Obs: Anna tog del i et shoot med 5 andre modeller, notmalt ville der ikke være en assistent tilstede ved et første-gangs nude shoot)
Hvordan følte du efter dit første shoot og/eller da du så billederne?
- Jeg havde ikke rigtig nogle forventninger til billederne, da jeg netop ikke ligger inde med erfaring med nudeart. Men det var en oplevelse at skulle forholde sig til sig selv - nøgen - på billeder. Men efter, at have set serien igennem igen, kan jeg kun være tilfreds og stolt over, at dét er mig på de billeder! 
Hvordan er det at arbejde med Thomas helt generelt?
- Det var så fantastisk og lærerigt at arbejde med Thomas. Som ny bliver man tager imod med åbne arme, og man er ikke bange for at spørge ham til råds. Med Thomas bag kameraet er der både plads til sjov, seriøsitet, eksperimenter og chancen for at skabe unikke billeder.  
Hvad er den største bekymring (hvis der er nogen) ved at lave billeder uden tøj?
- At jeg bliver stemplet, netop fordi folk har så mange fordomme omkring nudeart. Men vejen frem er at fortælle folk, at man kan skabe noget smukt, nøgent, uden at det bliver pornografisk - og det er jo netop det, det her skal afdække.