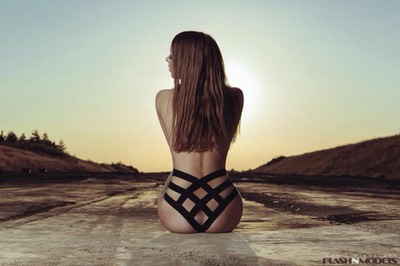 Text translated from Danish
What's your name or would you prefer to be anonymous?
- Nadia Mikkelsen
How many times have you been photographed nude?


- I

'

ve done implied nude pictures 5 times.

What made you decide to pose nude first time you did?


- I would never have expected to be standing naked in front of a camera, but looking for inspiration for future pictures, I found one image that inspired me to pose in implied nude pictures. I

'

ve decided to only do implied nudity in pictures as I don

'

t want to flaunt breast and the lower parts so as to still keep something private.

Why do you model for nude pictures and show your body to the world?


- Personally I feel there is a huge difference in how you pose in the nude. It can either be very graceful, elegant and in my opinion very beautiful. Or it can be pornographic, vulgar and for me repulsive. We

'

re born nude and therefore I think it

'

s a pity that you think of being nude as something pornographic, and thus reject it since it really is the most natural thing in the world. SInce the first Art-nudes I modeled for I was hooked. The type of photography yields some unique and beautiful images if the coorporation between model and photographer works. 

Describe what it feels like to be nude while being photographed, does it feel unnatural for example?


- The first time I was very nervous since a large part of my life I have been very selfconsious and critical towards my own body. I gegerally didn

't like to show it to anyone but myself and therefore is was a somewhat foreign feeling. It wasn't uncomfortable in any way as the photographer was good and did his best to make me to feel at ease, so in that respect it was quite natural.
How did you feel after your first session and/or when you saw the pictures?
- I was extremely proud when I saw the resulting pictures. I was definitely worth it and since then I have had no problem modeling without clothes.
What is it like working with Thomas?


- Thomas is so nice working with. It

'

s imediately obvious he

'

s very experienced and used to working with other people which imediately makes you feel at ease. I felt entirely safe throughout the shoot and his good 

humor only makes it more fun and natural.
What is/was the biggest worry about modeling nude, if any?


- My biggest worry have always been whether people would judge me in a negative way based on my work, and whether it could have negative consequences on future job oportunities. I

'

ve relaxed quite a bit over time however and generally feel much better about myself and own body. It

'

s obvious I now have higher 

self-esteem and other peoples opinion is a lot less important to me.
Other thoughts you'd like to share?
- To me art-nudes has meant a lot over time. I find it educational and very healthy to see images of naked people, as it has improved my own self understanding. Noone is alike. Some women have a huge bosom curvy forms and wide hips. Others are small and delicate, have tiny breasts and hardly any curves. We're all different and unique in our own way. Seing other women nude have made me appreciate my own body much more as it is and I now find the beauty in different peoples characteristics and bodies.
Original tekst på Dansk:
Hvad hedder du eller vil du hellere være anonym?
- Nadia Mikkelsen. 
Hvor mange gange er du blevet fotograferet uden tøj?
 - Jeg er efterhånden fået skudt implied nude 5 gange. 
Hvad fik dig til at stå model nøgen første gang?
 - Jeg havde aldrig regnet med at jeg ville stille mig nøgen op foran et kamera, men da jeg ledte efter inspiration på nettet til fremtidige billeder, så jeg et billede der inspirerede mig til at lave implied nude.
Hvorfor laver du nøgenbilleder, og viser din krop for verden?
- Jeg synes personligt der er stor forskel på hvordan man stiller sig op nøgen. Det kan enten være meget yndefuldt, elegant og i mine øjne super smukt eller det kan være pornografisk, vulgært og for mit vedkommende frastødende. Vi bliver født nøgne og derfor synes jeg det er super ærgerligt at man forbinder det at være nøgen med noget pornografisk, og derfor tager afstand fra det, da det er noget af det mest naturlige. Siden jeg første gang fik taget nudeart billeder, har jeg været bidt af det. Det giver nogle meget unikke og smukke billeder, hvis samarbejdet mellem fotograf og model fungerer. Jeg har valgt kun at lave implied nude, da jeg ikke ønsker at vise mine bryster og forneden, for stadig at holde noget privat.
Prøv at beskrive hvordan det føles at blive fotograferet nøgen, er det unaturligt for eksempel?
 - Første gang var jeg meget nervøs, da jeg i en stor del af mit liv har været meget kritisk overfor mig selv og min krop. Jeg brød mig generelt ikke om at vise den til andre end mig selv og derfor var det en ret speciel følelse. Følte det dog ikke ubehageligt på nogen måde, da fotografen var dygtig og derfor gjorde sit yderste for at jeg følte mig tilpas, på denne måde føltes det ret naturligt. 
Hvordan følte du efter dit første shoot og/eller da du så billederne?
- Jeg var super stolt da jeg så billederne der kom ud af det. Det var klart det værd og siden da har jeg ikke haft problemer med at få taget billeder uden tøj på. 
Hvordan er det at arbejde med Thomas helt generelt?
- Thomas er super god at arbejde med. Det er tydeligt at han er meget erfaren samt er vant til at arbejde med andre mennesker, hvilket gør at man føler sig godt tilpas. Jeg følte mig på alle måder tryg under hele shootet og hans gode humor gør det kun sjovere og mere naturligt.
Hvad er den største bekymring (hvis der er nogen) ved at lave billeder uden tøj?
- Min største bekymring har hele tiden været hvor vidt folk mon dømmer mig på mit arbejde og hvor vidt det kan have konsekvenser for mine fremtidige jobmuligheder. Dog er jeg blevet mere afslappet med tiden og har generelt fået det langt bedre med mig selv og min egen krop. Det er derfor tydeligt jeg hviler mere i mig selv og folks dårlige meninger rammer mig i langt mindre grad. 
Andre tanker du vil dele?
- For mig har nudeart billeder betydet utroligt meget gennem tiden. Jeg synes det er lærerigt og ikke mindst sundt at se billeder af nøgne mennesker, da det har øget min egen selvforståelse og generelle opfattelse af mig selv. Ingen er ens. Nogle kvinder har en stor barm, kurvede former og brede hofter. Hvorimod andre kvinder er spinkle, har små bryster og næsten ingen former. Vi er alle forskellige og unikke på hver vores måde. Det at se andre kvinder nøgne har gjort at jeg i langt højere grad værdsætter min krop som den er og ser det smukke ved menneskers forskellige træk og kroppe.