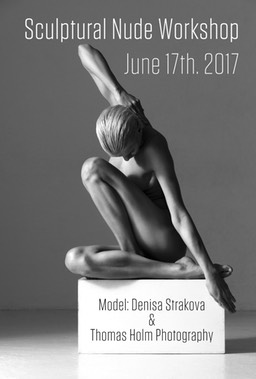 Learn to make one of a kind sculptural nude images from one of the best art-nude photographers with one of the best art-nude figure models available.
We'll work with interesting lighting, different ways of modifying light for different emphasis and look (as in really work - not just set). Advanced composition and how to make your images interesting, as well as model direction (not that Denisa really needs much direction). And you will make some wonderful images shooting Denisa one-on-one.
You will walk away from this workshop knowing a lot more about how to light nude images, you will have a better grasp on creating images that work emotionally and you will have some beautiful images for portfolio use etc. You will also receive some hand-oust re lighting and composition etc.
The workshop will be held in Vanløse in the outskirts of Copenhagen
If non Danish speakers attend the workshop it will be conducted in English.
Price : dkr: 2200 (20% early bird in March available)
Sign up & more info here - Tilmelding og mere info her